History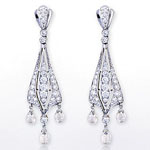 Le Grand Amour is a distinguished family business that has been established for over 20 years.

We pride ourselves on catering to those individuals who wish to stand out from the crowd.

Le Grand Amour is synonymous with style and elegance, we are located in the centre of Melbourne's most prestigious jewellery precinct.
The founder of Le Grand Amour travels the world for the unique and the exceptional which is why we are home to the most rare and remarkable collection of period (Art Deco, Edwardian, Art Nouveau, Victorian) and contemporary jewellery, including masterfully designed hand made engagement rings, exclusively imported diamonds and we specialise in lustrous Tahitian pearls.

Our professional sales team is highly qualified to help you make the most important decision when choosing an engagement ring and other precious gems.