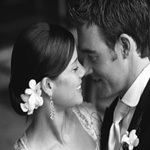 First up, take note of the jewellery your partner already has. Is she a silver or gold girl? Listen when you hear her admiring someone else's jewellery, and remember, girls talk, so ask her friends what type of jewellery she likes (you can always say you're saving for a Christmas present.)
It's also a good idea to ask the experts. Our jewellers are used to giving advice, so just ask one of our friendly staff to run you through the basics and show you a few different styles to get you started. Find a photo of your partner wearing some of her favourite jewellery and show it to our jewellers to help them understand her style. They might be able to make some suggestions.
Remember your partner should be able to wear her ring for the rest of her life, so don't be too stingy. At Le Grand Amour,we provide a flexible, no extra charge lay-by system for your convenience, and keep in mind that there's no right or wrong when it comes to how much to spend. It's a good idea to discuss it with your partner, and as a guide, we suggest investing two months' salary.
Unless your partner has been tearing jewellery ads out of bridal magazines and dropping hints as you walk past stores, you will have no idea what she wants for an engagement ring. So why not take her shopping to choose her own? Although this will spoil the surprise, at least it will take the pressure off you.
Le Grand Amour offers a fair and equitable refund policy. Therefore, if you still want to surprise her after you propose, let your fiancee know that the ring you've bought is just a proxy and you would love to take her shopping for her dream ring later.